Gruppo Pozzi has the ambitious goal to become Carbon Neutral by 2025.
"From words to actions" proudly declares Ruggero Andrea Pozzi CEO Pozzi Group "Today we have planted the first of many trees that will be planted to compensate CO2 produced by each of our projects. Our goal will be to quantify, to reduce and to offset CO2 emissions, identifying areas where new trees can grow.
This activity amplifies the path we have started many years ago shifting our resources to sustainability: eco design, second life products, sustainable raw materials are now an integral part of every single project. The great challenge of Gruppo Pozzi has started: becoming carbon neutral by Choice!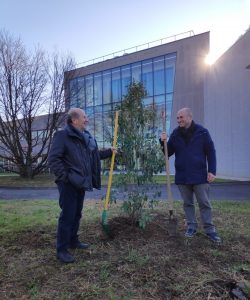 Maurizio Pozzi, Founder, and his son Ruggero Pozzi, in a celebrative pic for this new goal in sustainability.